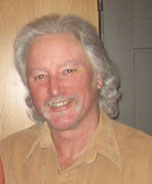 John Gussman, Director and Cinematographer
John has been a professional photographer for 40 yrs, sucessfully running his own business, Doubleclick Productions, since 1982. John was drawn to this project for a number of reasons. He lives in Sequim, and has spent the last 34 years hiking, camping, fishing and photographing the beautiful Olympic Peninsula.
" I have always felt a special spiritual connection to this area and to the Elwha Valley in particular. When dam removal was finally scheduled, I saw the opportunity to document this once-in-a-lifetime event and to witness the healing of this special place and the people who share this land."
Beginning in early 2010, he started devoting most of his time to documenting as much of this ongoing process as possible. Shooting stock footage, interviewing people and capturing significant events with the help and cooperation of many individuals, the Lower Elwha Klallam Tribe, National Park Service, US Bureau of Reclamation, Coastal Watershed Institute, NOAA, USGS, WDNR and other government and non-profit agencies, John plans to continue filming this project beyond the completion of "Return of the River", documenting the Elwha River restoration effort until at least mid 2013 to document the dam removals, restoration and the return of the first salmon.
Working on this film has been a very rewarding and educational journey for John. It is like floating down a river and not knowing what is around the next bend.
Jessica Plumb, Producer and Chief Editor
Producer and Chief Editor Jessica Plumb came to live on the Olympic Peninsula a decade ago, leaving behind a career in Boston and Beijing. Jessica is a filmmaker and writer whose work focuses on the relationship between people and the places they call home.
As the Director of Plumb Productions, www.plumbproductions.com, Jessica has produced numerous educational and promotional videos for clients in the arts and environmental organizations. She has worked on documentary and narrative films screened at festivals in the role of editor and behind the camera. She has created award- winning short films that are best described as video poetry.

The intersection of place and human experience is a theme that runs throughout her work.
Jessica holds a B.A. from Yale University and an interdisciplinary MFA from Goddard College. She has pursued continuing education in documentary film, digital storytelling and photography at the New School University of New York, Anderson Ranch, 911 Media and the Maine Photographic workshops.
Jessica is delighted to be collaborating on a film about the land she's grown to love. She is intimately familiar with the Olympic Peninsula, having hiked many of its valleys and ridges with her family.